Welcome! Here You Can Find Information on Yardley, Newtown, and Doylestown, Pennsylvania Real Estate.
The old adage of "location, location, location" remains the backbone of real estate in Yardley, Newtown, and Doylestown, but
location
is as specific as a buyer. That's why if you were to walk into my Real Estate office at 114 S. State St., Newtown as a person new to the Bucks County area, I'd spend a few minutes acquainting you with a county that not only is beautiful, but also hits the "location" hot buttons by being close to both New York and Philadelphia.
Now that you're visiting my virtual office, I'd like to give you the same information and hope that as you begin your home search, you can return to this information and these maps to better serve you.
The political map of Bucks County is made up of boroughs and townships, each with their own local government. Generally speaking, a township surrounds a borough, and the two share a common mailing address despite their unique governments. For example, Lower Makefield Township, which surrounds Yardley Borough, has a Yardley mailing address.
I've learned that one of the most important pieces of information a Realtor can offer is about school districts. Some
people have
done Internet research, and have narrowed down their choice of
school
district; others aren't as sure. Regardless, seeing the physical boundaries of each school district can be helpful in narrowing down a home search. These maps will help you there as well.
Searching for a home can feel like a gigantic endeavor. I'm hoping that with this information and these maps to guide you, you can more easily narrow down your MLS search and begin the exciting process of finding your new home.
Please feel free to contact me via my email address Vickie@VickieCohen.com should you need more help. Of course, the doors to my real office are always open. I hope that you can stop in and we can meet in person soon.
Understanding Bucks County by Townships and Boroughs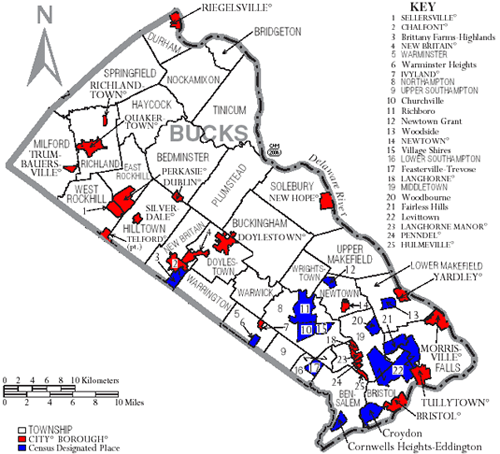 Understanding Bucks County by School Districts